article_title
The Study Center for Film Technology is an independent institute associated with HFF Munich. Founded with prize money from the Exchange Processes competition, it defines its role as that of a mediator between the industry, filmmakers and instructors – while concentrating know-how spread throughout the media center Munich.
Exchange Processes
In  2007, the University for Television and Film received 100,000 euros in special-prize money from the competition "Exchange Processes between Private Enterprise and Universities" – sponsored by the Stifterverband für die Deutsche Wissenschaft (Association for the Promotion of Science and Humanities in Germany) and the Federal Ministry of Research and Education – for the founding of the Study Center for Film Technology, as an academic research institute at HFF.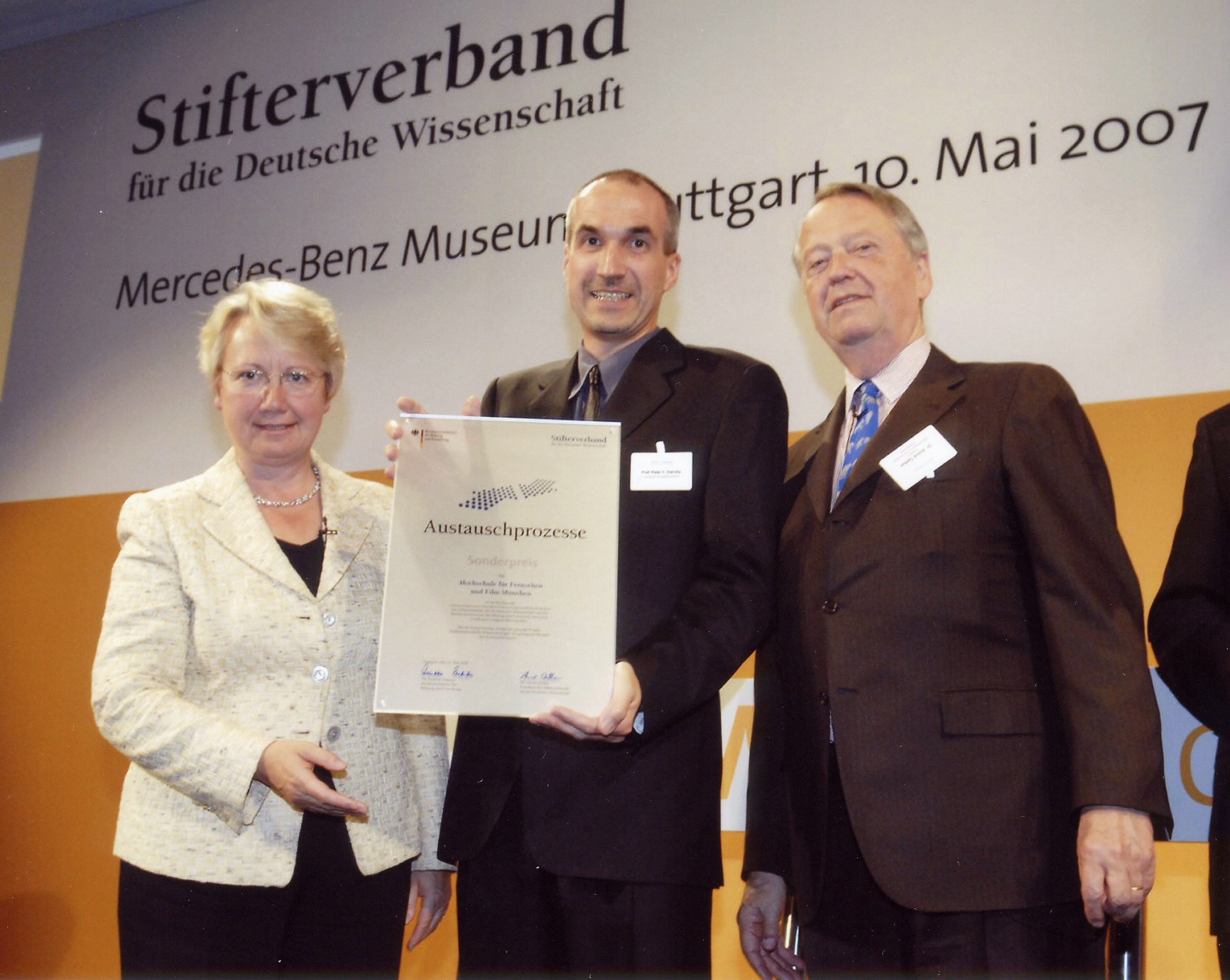 Federal Minister of Research and Education Annette Schavan; Prof. Peter C. Slansky, HFF; and the Chairman of the Stifterverband für die Deutsche Wissenschaft, Dr. Arend Oetker, on 10 May 2007 at the Mercedes Museum in Stuttgart
Industry forum
The mission of the Studienzentrum für Filmtechnologie (Study Center for Film Technology,  SFT) is to mediate between the users and manufacturers of film equipment, supporting a wide range of exchange activities. At trade fairs, they carry out concrete projects; for example at the film technology exposition Cinec. Moreover, the Study Center for Film Technology supports various industry forums, in collaboration with the following German film trade associations:

-    the association of cinematographers, Bundesverband Kinematographie (bvk)
-    the association of television cinematographers, Bundesverband der Fernsehkameraleute (BVFK)
-    the association of editors, Bundesverband Schnitt;
-    the Cinetechnik Bayern e.V.; etc.
Research
Munich boasts one of the world's major research institutions for the medium television: the Institute for Broadcasting Technology, located on the BR campus in Munich-Freimann. It is not our intention of course to compete with them.
On the contrary: The aim of the Study Center for Film Technology (SFT) is to support small research projects working at the interface between film technology development and its creative artistic application. Already. several research projects, for example, have been generated from HFF: including one for the development of a pilot program for Handheld TV, for the development of software for 3D-light simulation, as well as two documentary film projects in collaboration with the Munich art museum Pinakothek der Moderne and public broadcasters Arte and Bayerischer Rundfunk. The production of educational films dealing with cinematic and television technology. for use in training and extension studies, has resulted in a series of approx. twenty films on a wide variety of topics.
Film technology history
In the global development of film technology, Munich has long been the source of crucial impetus. Yet nowhere in Munich is this rich – and glorious – chapter of technology history appropriately presented. In early 2007, the working committee "Film Technology History" was founded by HFF; since joined by current members Bavarian public TV broadcaster Bayerische Rundfunk, the Institute for Broadcasting Technology, the Bavarian film technology society Fördergemeinschaft Filmtechnik in Bayern e.V., and the Arri Group.
The Study Center for Film Technology (SFT) coordinates the activities of this committee, making it the conceptual home of extensive film technology collections, both private and institutional. Primary concerns are the technical quality of each collection and respect for the respective collection concept. Its special focus is on Munich as a center of technology. A joint database was created – the beginnings of a "virtual film technology museum".
Extension Studies
In spring 2007, in collaboration with film technology companies, we launched our basic vocational seminar Film Technology. The curriculum is continuously updated to keep abreast of current technological developments. Under the heading Cinematography Studies, the SFT currently offers seminars on workflows, VFX, 3D, digital cinema & HD, lighting, cameras, optics, sound, post-production, editing, documentary film and transmedia.

Our modular Extension Studies program appeals to all those involved in film who seek a fundamental understanding of current developments in their profession. It is here that film technicians can learn,  within a hands-on work process, how techniques are actually applied. And theoreticians and practitioners alike have an opportunity to explore the technical context, both of their own core activity and of connected areas, in order to make well-founded decisions and solve problems. Through constructive collaboration with the Educational Institute of Industry and Commerce in Bavaria (bbw), our series of courses is AZWV certified and 100% eligible for occupational assistance via training voucher.